We provide quality service to our customers
产品名称Second Generation Bussey-Saksida Touch Screen Chamber for Rats
CategoryBussey-Saksida Rodent Touch Screen Chambers
技术参数
The rodent touchscreen chambers are now used by over 300 Research Groups in at least 26 countries
Write your own Tasks or use the 14 pre-written validated Tasks currently available, including all training paradigms as a turn-key solution.
Touch Screen Chambers deliver all the Tasks of a traditional lever or nose-poke operant chamber, but they can do so much more.
Translational research: the rodents Tasks are virtually identical to tasks used with NHP & human populations on the CANTAB system.
A battery of cognitive Tasks for rat and mouse from simple to complex, with training times accordingly from days to weeks.
Following 10 years of customer feedback and continuous development, we have redesigned the system to be even more flexible and with more features.
Third party systems can be integrated with TTL input and output lines, with low e.m.c. noise 80604EA chambers for integrating with Electrophysiology Recording
The Second Generation Bussey Chambers with Intelli-interface supports up to 20 chambers on one PC. On the strength of 10 years of feedback and development, the system is even more flexible and with more features.
A Decade of continuous development
​​First developed in the 2009 at Cambridge University, the Bussey Saksida Rodent Touch Screen Chambers are now used by over 300 different Research Groups in at least 26 countries. The Bussey-Saksida Chamber has always featured a unique trapezoidal wall shape in order to focus the animal's attention and facilitates the efficient and high-throughput cognitive evaluation of rodents. The chamber is easily reconfigured to a modular square arena with panels, levers, lights, and a range of other operators to accommodate any task like an operant chamber equipped with a traditional lever or nose-poke.
Chambers Include
Trapezoid walls in a non-reflective finish, to keep the animals focus on the screen and reducing distraction away from the screen.
Ultra-sensitive Touch Screen to consistently detect a mouse nose-poke to the touchscreen. Commercially available touchscreens are not sensitive enough to reliably detect every nosepoke.

A reward trough that can be place opposite or in front of the screen. While most tasks require the reward trough to be opposite the screen, some tasks (e.g. Autoshaping) require the reward in front of the screen.

Pellet or Liquid reward.

Activity beams to detect when the animal is at the back or front of the chamber.

House and IR lighting

Core Intelli-interface
​Designed to be 'plug n play' and highly productive.
Chambers installed on our Easy Install System, ready to wheel in your lab. Attach the PC and you are ready to go.

Fully validated ready written Task Suites which come with training paradigms and testing guidance.

ABET Cognition Software gives you programming power, data analysis, versatility, and flexibility; video and audio control also included.

Virtual Interface enables the user to easily write their own scheduling and assess the data away from the lab.

On-line training to get your lab quickly working with high productivity.
Paradigms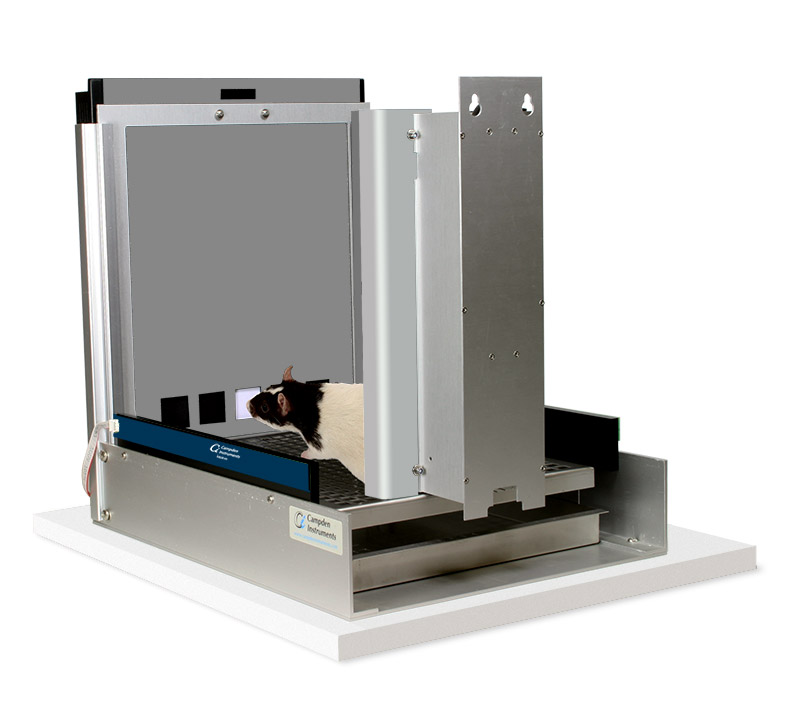 The Bussey-Saksida chamber allows usage of standard, original, and customized paradigms. Standard Task Paradigms are available by arrangement with the University of Cambridge. Standard tasks include popular Tasks such as PD, PAL, 5CSRT, PRC, Location Discrimination, and many more. The rodent tasks range from simple to complex and are virtually identical to tasks used with NHP & human populations on the CANTAB system. All paradigms include training routines as well as the main experimental paradigm and the data analysis sets.
The rodent touchscreen chambers are now used by over 300 Research Groups in at least 26 countries
Write your own Tasks or use the 14 pre-written validated Tasks currently available, including all training paradigms as a turn-key solution.
Touch Screen Chambers deliver all the Tasks of a traditional lever or nose-poke operant chamber, but they can do so much more.
Translational research: the rodents Tasks are virtually identical to tasks used with NHP & human populations on the CANTAB system.
A battery of cognitive Tasks for rat and mouse from simple to complex, with training times accordingly from days to weeks.
Following 10 years of customer feedback and continuous development, we have redesigned the system to be even more flexible and with more features.
Third party systems can be integrated with TTL input and output lines, with low e.m.c. noise 80604EA chambers for integrating with Electrophysiology Recording
Animal Working Area
126mm width at Feeder

240mm width at Screen x 332 mm Deep (607.6 Sq. cm or 94.17 Sq. in)

Working Area is 300mm in Height
Standard Sound Attenuation Chamber (SAC)
Attenuation: Approx. 35dB

Weight: 38 kg (empty)

External Dimensions: 600mm Wide x 670mm Tall x 352mm Deep

Internal Dimensions: 540mm Wide x 610mm Tall x 532mm Deep
Address: Hualong building, building 3, No. 29,
North Third Ring Road, Xicheng District, Beijing
Copyright (C) 2020 Hong Kong Plexon All rights reserved 京ICP备14048516号